Steve Zimmerman and his staff practice a lost art – customer service!  I had the greatest opportunity to be at the Zimmerman yard for the week leading up to their 20th anniversary.  The celebrations began on Friday evening the 27th of July and finished on Sunday morning.  The main focus of events was on Saturday.  Steve's team of craftsmen and technicians had just completed the tenth custom boat in the Zimmerman series (a Zimmerman 36).  Shortly after lunch the new owners broke the traditional bottle of Champaign (over the anchor) and into the water slid the most beautiful custom cruiser you will find.   But the real fun started around 3:00 when the staff divided into the craftsmen and techs began building two boats using supplies set aside by Steve for a timed construction contest.  The goal being to build the most sea-worthy boat in the shortest time, put two brave soles onboard and race out and back a short distance.  Needless to say the laughter and excitement filled the air for the next few hours.  Late in the afternoon a full meal with wine and drinks was served and soon we all felt lazy with with the warm afternoon breeze.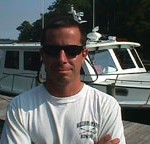 Steve took a moment during the celebration to give thanks to those who have stood beside him though 20 years of hard work.  I have to say that Steve's thanking God, his family and the men who have fought our wars may have sounded corny, but it caused my throat to swell with pride and respect for a man who has accomplished so much.  The weather was kind that day, but Sunday morning brought a cold drizzle that kept those of us at anchor behind closed doors.  Around 0800 the sound of Steve's tender darting from boat to boat broke the silence.  There he was, in his slicker handing out the morning paper and a chilled mimosa to all of his clients and guest.
The Zimmerman yard is managed by Steve D'Antonio.  His knowledge of project management and boat building is gladly shared with everyone.  In deed, Steve assisted us with a gravity feed for our ailing engine until parts could arrive.  His almost childish curiosity (he calls himself a gearhead) adds to his cheerful and positive attitude.  He insisted on photographing our entire engine room to capture the "unique way" the British and Canadians plumed and wired those wonderful Gardner engines.  Steve has recently joined the ranks of writers for Passagemaker Magazine.  His articles on vessel maintenance cover all aspects of ownership and repair.