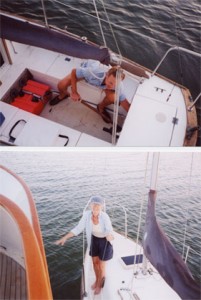 What does the crew of a crippled trawler do when they have no food onboard.  Well first, scold the captain for poor planning – then flag down the nearest sailor and ask for help.
John Sampson and his wife live in beautiful Mathews County Virginia, a peaceful Chesapeake Bay community where a handshake means what is used to.  Following a fuel pump failure on the Bay, we motored to an anchorage just outside the cut to Zimmerman Marine.  Not wanting to enter a narrow passage with a single engine, we opted for spending the evening on the hook.  While contemplating who was to eat the remaining bag of chips for dinner, the near silent oars of a rowing scull broke the evenings silence.  John Sampson had steered our direction to simply see who the strangers where.  Our conversation quickly turned to asking for advice on how to perhaps get a local teenager to purchase a couple sandwiches and bring them back.  After a few minutes John said who would think about it and we said our goodbyes.
Within a few hours the tide flooded and while sitting in the pilot house we observed a sailboat closing astern.  To our disbelief there was John's wife on the bow holding a cooler.  Inside where hand made tuna sandwiches, mints and imported beers.  The smiles and handshakes felt warm and friendly.  With strong words of refusal for our money Mrs. Sampson finally agreed to to take a token offer on our part.  John said it would feed the sailboat fund.  My step-father and I returned to the pilot house to consume our gourmet meal.  Thirty minutes later there where the Sampsons again.  I could tell by the look on John's face that the amount I gave him was too much according to his wife.  And sure enough, we where scolded for not understanding Mathews county hospitality and given over half of our money back.  To John and his wife – our deepest thanks.