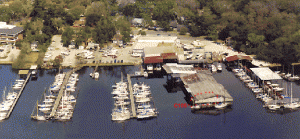 We have found a new home at the Ortega River Boat Yard in Jacksonville, Florida.  Phil  called today (8/10/01) to let us know that a 55′ covered slip had opened.  We have been looking along the entire east coast from Beaufort, N.C. around to the Gulf Coast.  Covered slips were impossible to find.  We were told in Savannah that many marinas had covered slips until the hurricane seasons about ten years ago.  Following all of the damage most marinas didn't want to spend money on covered slips so they slowly disappeared.
Owning a 30-year old trawler almost mandates a covered slip.  It's evident from the rainwater damage we are discovering as we go through repairs at Zimmerman Marine.  Hidden damage is everywhere below the teak decks.
The phone line for the Webcam is being installed on 9/4/2001 so stay tuned for live pictures.