Friday, October 8, 2004 – After much cleaning and working on Tortuga, our good friends, Barry and Maureen Sikes arrive at our house around noon, after spending a week on their own beautiful 65' Grand Alaskan in Juno, FL.  We head to the boat as Barry and Jim are anxious to get underway!  Once on the boat we give our guests the grand tour taking all of about 5 minutes.  Then we have a little lunch docked at the marina while we watch the dark clouds forming overhead.  The experts Barry and Jim determine we really don't want to get underway to our overnight destination, but after much cajoling from me and Maureen, we do get them to agree to a little short ride up the river.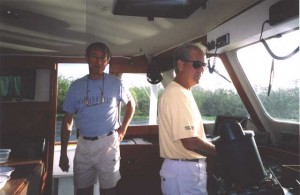 As we head North, we see that the clouds have dissipated and decide to go for it!  Here we come, Blackwater Inn and the William's Biker Bar, yippee!  The St. John River is way high from all the rain and flooding.  Many homes are close to being flooded and their docks are barely visible above the water. But we love the cruise by enjoying the scenery which is mostly unpopulated woods, except for the beautiful plant life and wildlife … lots of birds and a few gators!!
Just 3 and ½ hours later we make our destination, but find the Blackwater Inn's dock under water!  Immediately we get on the radio and try to figure out with the dockmaster who was expecting us, just what to do??  As luck would have it, Midway Marine, a nearby store has a floating dock and is closed leaving us a nice dock space!  So, Bill, from the Inn helps us dock there and all is well.  We have a drink and toast to our little trip and seeing our good friends on our boat for a change as we have been on theirs several times but this is the first time they've been on ours!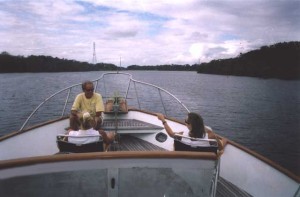 Around 7:30p we head for the bar and order up some good 'ole bar food; grouper fingers, fries, catfish, potato skins and more!  Afterwards, we head downstairs and much to our delight there's the same duo we enjoyed so much from our last stay here six months ago.  She, Dotty is playing the keyboard, and he, Dennis is on the saxophone.  They really are good musicians and I tell them so as I plop some $$ in their tip jar.  Dotty then asks if I play, and I say "No, but I am a singer" (failing to add "amateur" to that statement)!!  Anyway, before I know it, I'm belting out a jazzy rendition of "Girl from Ipanema" with their expert accompaniment!  I can't believe my ears when everyone applauds and I take a bow in my jean shorts and t-shirt, clearly I was not prepared for entertaining!  I went back to our table and asked my husband and friends for an honest answer to the question, "How did I really sound"?  And, was surprised again when they said "very good"!  (Note to self:  When singing, make sure audience has had a few glasses of something alcohol related before performance)!!  After all the excitement of the day and evening, we head back to the boat, sit around for a bit and talk and then head to bed.  We want to get an early start in the morning as we will be going against the current which will be a longer cruise.

Saturday, October 9, 2004 – As morning breaks, Jim and I are moving around, me fixing coffee, him checking the generator and other particulars to get underway.  Our friends soon arise and join us on the back of the boat having a leisurely breakfast, drinking juice and coffee and trying to wake up when the owner of the Marine store suddenly appears and not very politely asks us "May I help you?"  We explain about Bill at the Inn and it's lack of dock space, but he doesn't seem too happy as he walks away shaking his head.  Thinking quickly Maureen grabs her credit card and me and Barry join her as we head into the store to buy up a bunch of stuff, from Alligator coosies to a fishing pole and spinner, a hat and sunglasses for their darling 4 year old granddaughter, Alexa and suddenly Mr. Sourpuss is singing a new tune.  We even see a faint smile appear on his face.  In any event we get the message and prepare to get underway.
On the water again, we are not making the speed we did going up.  So we try to enjoy this absolutely gorgeous day, laying on the deck, getting a little sun, reading and relaxing.  After about the 3rd, "Aren't we there yet"? from both me and Maureen, we kill some time by making us a little lunch and all of us eating in the Pilot house which is different and fun.
We are about an hour away from home port and suddenly I remember it's Barry's birthday!  So, I take a deep breath and get real serious and start talking about this momentous occasion and before I get it out, Barry said I was scaring him cause he didn't know where I was going with this??  So, I laughed and Maureen and I start dancing around singing "We're gonna party, cause it's your birfday, we're gonna party cause it's your birfday and on and on, until we almost irritate the poor birthday boy, so we stop, (for a little while anyway, we end up doing it all day and all night on and off, though)!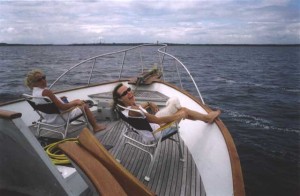 Finally, we arrive at Monroe Harbor our Marina, but not without a little drama.  It seems there's a sailboat that is next to our slip and is making it more difficult for us to dock Tortuga.  Actually, Maureen and I decide it's just what the boys wanted to end the trip … just a little extra drama where they have to get on the radio and negotiate this or that, where we are going and getting someone to help us, etc., etc.  Actually, several people come to the rescue and all is well.  The boat is securely tied and we are off it and on the dock in no time!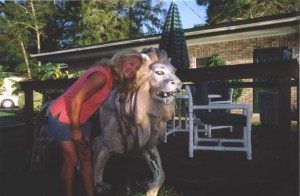 Back at the house, we all relax back, napping, reading, re-organizing and then Barry mentions he wants a massage.  So, I get on the phone and just by chance get Tracy from Changez to see him as her last appointment.  So, we drop off Barry, and Maureen and I run around and get the makings for Goombay Smashes!  It's a drink Barry and Maureen introduced us to when we flew in to meet them on their boat in Marsh Harbor, Bahamas.  So, an hour later we pick up Barry and the party begins with all of us toasting Barry's birthday with these great Goombay Smashes!  We were reminiscing about Marsh Harbor and all, and almost have to hurry to get our showers and get to our dinner reservations at 7:30.
Dinner is at DaVinci's which is always good food and a good time, and this night is no different.  We all got seafood except for the Steak Miester, Jim!  There's so much food, we even have enough for another dinner later in the week, so we take our doggie bags and head home.  We are laughing all the way, as Barry had told us the funniest story about some friends of theirs that they were cruising with that as a joke wore a thong (all of them were supposed to wear their thongs, but nobody did except this one friend).  Anyway, they all went snorkeling and their friend's butt gets so burned it is the color of a ripe tomato.  So, Barry tells Maureen and the others and makes a prediction that their buddy is gonna be begging to stick his butt in the freezer by the end of the night, he is in so much pain.  Well, lo and behold, at the end of the night, their buddy comes to Barry and says, "Hey man, can I stick my butt in the freezer"?  We can just imagine the sight of that and just crack up!!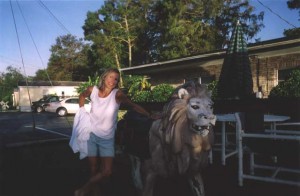 Once home, Barry opens his presents which one was a gag gift, a huge bottle of power laxative with Jim and I saying, "Well, Barry you know getting older, sometimes things slow down a little bit . . .".  So, with a laugh he finishes with the other little gifts.  Then Maureen and I get the cake and light the candles and bring it out singing.  I actually lucked out as I got the cake from Publix Bakery and you never know about those things, It was an Italian Cream Cake and turns out, very delicious!  But just as this whole weekend has fallen into place so well, the cake did too!!
Our dear friends are leaving early in the morning so we say our goodbyes tonight.  We've had so much fun and they have been such easy company we vow to do this again soon, either on their boat, our boat, or charting a boat in the French canals or in the BVI's!!!
What a fun time it was these two days … it was great being with our good friends again but it is also wonderful that they love boating as much (or more) than we do!!  Thanks guys for helping make this cruise so comfortable and FUN!!