We didn't win the contest.  Not bitter but who where these judges?  The top story was awful!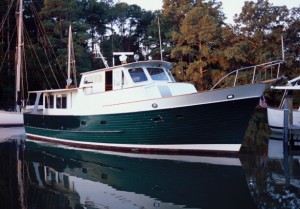 Trawlers – they conjure up images of salty old men going to sea.  Risking life for the bounty our oceans provide.  The picture of these wonderful boats coming into harbor after a long voyage are vivid in everyone's mind.  And it's that image which attracted my wife and I to search for a pilot house trawler as our retirement boat.  M/V Tortuga was purchased two years ago and she is a classic American Marine A49.  Built in 1971, she is hull number 6 of the Alaskan series.  She lead they way for over 70 more of these magnificent vessels that where built by skilled Asian craftsmen.
Her pilot house is warm with the rich look of teak and mahogany.  The strength of her design imparts a sense of security, keeping harm away from my wife and I.  The electronics are old and haphazardly scattered.  No long-term thought as to how to place them or make them functional – except for one.  A Furuno FR-240 Mark-II radar. Not just any radar, she is a classic.  By comparison to today's modern marvels, she stands almost four feet tall.  On her proud stand made of metal that will last through the ages.  A cabinet housing electronics from my childhood days, topped with a rubber cone to shield the delicate phosphors from sun.  Was this the secret reason I bought this boat?  Did I hide my lust for this electronic marvel from my wife, insisting that the boat was perfect because of her design?  Or did I simply want to own an FR-240?
To our amazement we found the original manuals buried deep in drawers.  A few minutes of reading combined with my years of radar operation on Navy ships led to the moment I had been waiting for.  Power was applied to the master switch, then the rotate switch on the pedestal was flipped.  Ah – the site of that open array spinning.  No man can tell you that he spins that open array radar to see targets ahead.   The secret reason is that it looks so macho, you own a REAL boat when there is a spinning Furuno radar array on the deck house!  We continued the power up and soon the harbor outline was painted with sweeping arcs on the surface of the CRT.  SHE WORKED!  After all these years this marvelous FR-240 MK-II radar sparked to life without hesitation. It was Furuno magic!
M/V Tortuga is a head turning trawler. At every dock or on the hook, fellow mariners slow as their dinghies pass to take a longer look.  But it's the sailors who are treated with a tour of the pilot house that bring smiles to my face.  One would think that the rich wood tones would be the first place eyes would peer.  But it's the FR-240 that turns heads.  One cannot keep from paying attention to her classic, almost antique looks.  I've memorized the phrase – "Yes, she still works" – as the question is always asked.  Why not, it's a Furuno!