Much thought and some reasoning went into the decision to purchase her [Tortuga] knowing that these Gardner workhorses were no longer manufactured.  If it was even five years ago I would have made a different decision.  But the Internet allowed me the luxury to find replacement parts and the go ahead to find her a new home.
July 17, 2003
We have finally had another engine part fail.  The starboard engine starter just grinds when run.  I removed it form the engine and sure enough, there is wear on the starter gear and bronze metal flakes in the flywheel housing.  I've contacted Joe Dugan in Ft. Lauderdale to expect the unit shipped to him this week.  Joe worked on Tortuga many years ago when the first owner was traveling the east coast.
July 27, 2002
For the past year I have labored over ordering parts for my Gardner engines.  The major problem being that my previous supplier could not accept credit cards for payment.  Just today I have discovered that Gardner Parts Limited in Manchester, England will accept VISA.  And to celebrate I ordered all sorts of fun things: a hat, a jacket, a mug, pens, and most importantly – a pendant to fly from the mast and a plaque which identifies this boat as powered by Gardner.
March 5, 2002
A wonderful end result of cleaning up wiring in the engine room has resulted in the oil pressure and water temperature gauges for both engines are now working.  When we first acquired Tortuga there was single conductor wire running all around the overhead in the engine room.  It was draped from other wire, wound around piping and just simply hanging around.  Brown and gray wire that looked like extension cord wire was attached to every possible terminal on the engine sensors and seemed to be running between the two engines.  I took the approach that it couldn't be correct so made the drastic decision to cut it all out without even tracing where it went.  Wow – all of the sudden the instruments starting working.  I'll go back later and make sure I took the right approach.  One interesting draw back to the engine alarm systems:  The alarms sound for both loss of oil pressure and cooling water over temp.  I lost an engine on the trip to Huckins and yet the alarm did not sound.  It turns out that the oil pressure does not drop below the safe value for almost a minute following engine shut down.  I'll need to pay careful attention to that fact in the future.  Right now there are two distinct LOUD buzzers for the alarms (one for each engine).  However, there is no visual indicator light to alert you immediately to the failing engine.  I'm sure I will add that feature in the months to come.
November 27, 2001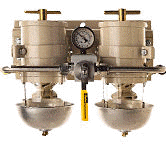 The task of replacing the Gardner fuel filtration system has started.  I love the twin filters that can be changed underway, but buying filters is such a problem (ordering them from England).  I ordered the first of the dual Racor 75/500 MAX filter systems today.  It will arrive this week.  I'm leaving the Gardner secondary filters (2 micron) in place.  The Racor will use the 20 micron element.  Stay tuned for some before and after pictures.  Jan.2002 update – the second filter system has arrived and is awaiting start of the installation.  This will be the next task on my list after the power distribution task in complete.
November 5, 2001
The starboard engine blows dark black smoke (actually suiting water) at any speed above 1100 RPM.  (Note 1400 is max)  I'm hoping it's a valve or something less complicated.  Fortunately that engine is the easiest to work on from above since the solon floor lifts above the engine giving us great access.  I'm also experiencing some hesitation at that RPM so I'm changing fuel filters again this weekend.  The port engine has been a champ!
Repair Work as of August 30, 2001
Getting ready to move one of the floor support struts back to its original position.  For some reason it was moved, but this is a real problem since the grease gun for injecting into the shaft bearing is mounted on this strut.  It's been disconnected for who knows how long.  That means the shaft seal is probably dry.  I can't imagine why it isn't leaking.
We are currently putting together a wish list for spares.  A suggested list follows.  As one can imagine, spares are still to be found in England, Western Canada and New Zealand.  I'll put together a complete listing of suppliers as time goes on.
The inclusion of a gasket set would also be a good idea.
Spare Part List
6 x R10076 Injectors $250.00 ea.
2 x Spare fuel lines $50.00 ea
1 x R10145 Water pump (cent) $800.00
6 x L21779 Oil filter $31.80 ea
12 x L21765 Fuel filter $18.54 ea
12 x S05516 Fuel filter * $21.69 ea
4 x L20099 Water hose $26.35 ea
2 x L20098 Water hose $26.47 ea
1 x A04933 * Decarb set (top) $447.59
1 x A04908 * Packing set (complete) $525.85
* Fuel filter primary sometimes supplied ex Gardner Works (Duplex). The gasket set either option is available.

Download a Gardner "L" Type Manual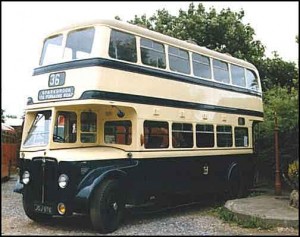 Where else would one find a Gardner 6LW diesel engine ? One of two examples of the 'Birmingham Standard' at the Wythall, 2976 was built in 1953 and passed to the WMPTE in 1969 to be finally withdrawn in 1976. During its life it was one of the few Birmingham buses fitted with an illuminated advertising panel.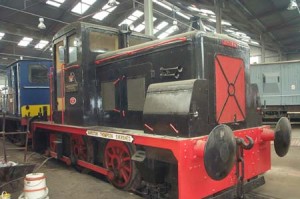 Originally built as an 0-4-0ST steam locomotive by R.W. Hawthorn, Leslie & Company at their Newcastle works, it was delivered new to Marston, Thompson & Evershed in February 1931 at a cost of £1600. By 1954 No. 4 became due for major repairs and was sent to E.E. Baguley at their Uxbridge Street Works in Stoke-on-Trent.
It emerged in 1955 as an 0-4-0 diesel shunter, fitted with a 150 hp Gardner 6LW engine. Only a few parts of the original locomotive survived this major rebuild, one of these being the buffers. By 1967 Marstons had sold the locomotive to the Bristol Mechanised Coal Company Limited at Filton for shunting in their coal yard, but in 1988 had re-purchased the locomotive intact, but out of service due to an engine fault. After arrival at Barrow Hill it has been repaired and put into use as a yard shunter.