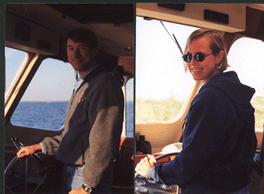 This is part one of a two-part series. If you're done reading, go on to part two of our trip to Jacksonville.
Here is our story of the first leg of our trip to bring our newly refurbished [Alaskan] trawler from the Zimmerman Yard in Virginia down to Jacksonville, Florida.  We had planned on a single 7-day adventure.  Who's idea was that?  Read on for the lessons learned for new trawler owners on the realities of heading south on the ICW.
Oct. 1, 2001, Monday
Arrive at airport at 7:30am to find a line so long for a full minute we cannot find the end of it.  Thinking we had plenty of time, we were wrong, when we were then selected for a complete bag search.  Needless, to say, we missed our plane.  What a way to start our trip!  Our entire itinerary changes!  So, we arrive at Zimmerman at 3pm.  The tide was out and too shallow to travel.  We decided to get settled in, provision up the boat, go out to a nice dinner and get underway in the morning.  Jim showed me around the little towns of Cardinal, Matthews, and Glouster.
Oct. 2, 2001, Tuesday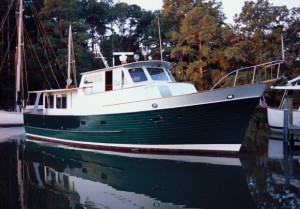 The nice folks at Zimmerman gave us a shove off their dock at 7am and we were finally underway.  It wasn't long before we noticed some black smoke coming out of the starboard engine.  I watched the helm as Jim went to investigate.  Nothing too suspicious except that engine seemed to be getting hot.  We backed off of it a bit and the smoke all but disappeared.  Around 12:30pm we need to stop and get fuel so we pull into the Salt Ponds Marina, in Hampton, VA.  We take on 300 gallons of fuel and start out again but before we are out of the marina, we lose both engines!  Jim drops an anchor and luckily it holds and we barely miss drifting into other boats.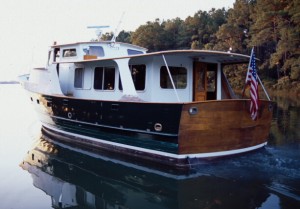 We soon are able to get one engine going and limp back to the dock.  We decide to tie up for the night and work out the problems these engines are exhibiting.  Jim works all afternoon.  It appears these engines haven't been used in a long time and there is a large amount of water in each fuel tank.  Jim determines the engines quit due to fuel starvation.  After filling the tanks up, it stirred up all the residue (and water) that had been sitting in them for we think as lo
ng as 5 years or more!  Meanwhile, we clean up, have dinner at their restaurant and get a good night's sleep for it will be "early to rise" tomorrow.  The people at Salt Ponds, especially Mark, were very nice and helpful.  Certainly a place we would recommend stopping if you are ever close.
Oct. 3, 2001, Wednesday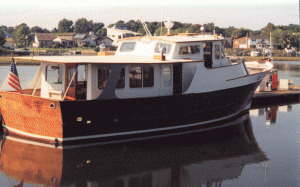 Depart Salt Ponds Marina at 7:30am, all is well.  This is going to be a productive day, we just know it!  And it is!  The weather is perfect, a touch cool in the morning, although it warms up to hot by noon.  Traveling through the Norfolk Naval basis is a little touchy.  Police and escort boats everywhere.  The Norfolk Harbor police pull along side and ask why we have an unmarked boat.  A courteous response from us and they seem happy and allow us on our way.  We enjoy watching seagulls following the boat, looking for fish.  We decide to dock at Pungo Ferry Marina, in Virginia Beach, VA.  It bills itself as the last marina in Virginia.  It is 4:45pm and we wanted to go till dark but we would have to cross a large body of water that would take way into the night, so we stop.  I go jogging to let off some tension and Jim goes to his favorite place, the engine room!  After showers we go to the local restaurant that is offering a great seafood buffet with crab legs, yum!  We enjoy it and enjoy meeting and talking with a nice couple, Bob & Jan Aiken, from Wisconsin that have a 40 ft. Sea Ray they're taking to Florida.
Oct. 4, 2001, Thursday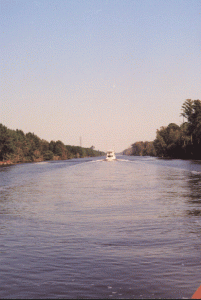 Depart Pungo Ferry at 7:30am.  Another beautiful day on the water!  The skies are clear and blue as Jim's eyes!  Today, again the seagulls are following the boat.  We also see some nice sailboats and trawlers (as they pass us)!!  We are trying to get used to going so slow.  We had thought we would average 10 mph or 8.5 knots, but we are mistaken.  The engines don't want to cooperate and neither do these head winds that we seem to take on everyday.  There's another phenomenon that we discover when we are in shallow water and that is the boat seems to automatically slow down.  We coin the phrase "shallow effect".  So, now we are averaging 7 mph or 6 knots.  We determine we will not be able to make our next marina so we will anchor out for the first time this trip … yikes!  Before doing so, however we need to stop and provision up the boat again.  We decide to pull into Alligator River Marina.  If we were dying of thirst or hunger, Jim and I decided we still would never stop at this establishment again!!  The woman that greeted us at the dock, even though we had called ahead, treated us like we were trespassing her private property!  She was rude, and made us dock at a very inconvenient spot even though the dock was empty!  Additionally, the marine store that was mentioned in their advertising is actually a Texaco convenient store.  Jim needed to buy several gallons of oil and they did not carry anything but quarts.  When we bought a case, thinking we could get a case price, we were told we had to pay the full quart price times 12!  Okay, enough of this, but mark my words, whatever you do, avoid this place, it was a bad deal all the way around!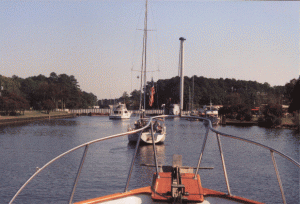 Meanwhile, back on the water, we cruised until we crossed the Palmeco Sound.  We were just a few miles away from a charted anchorage but decided to find our own spot that looked more appealing at Whipping Creek.  It was 7pm when we stopped and by the time we anchored the sun that had just set, was giving this beautiful glow to the whole sky and water that surrounded us.  I brought Jim a glass of wine and we sat on the bow of our boat and toasted our trip so far!  It was a wonderful moment!  We ate Dinty Moore beef stew (ugh) and made our beds in the pilothouse since Jim was nervous being our first time anchoring out and there was a bit of wind.  Just as we were starting to relax we hear these jets overhead come screaming over us.  This went on for hours (or it seemed).  Anyway, Jim determined we had chosen a spot to anchor that was the same testing area that the Air Force used for bombing runs.  We did not get much sleep that night!!
Oct. 5, 2001, Friday
We depart Whipping Creek at 7:30am.  Another sunny warm day with blue skies as far as you can see.  I say a little prayer of thanks for all the good weather we have had.  The sun is glinting on the sea in such a way that it looks like tiny silver fish flapping on top of the water, or sequins on an evening gown.  There are pelicans diving for food right in front of the boat!  Even with the engine troubles we are enjoying our trip, the wonders of nature are abundant and so visible from our point of view.  With our country's latest tragedies, Jim and I savor the simple gifts that cruising on this very day gives us!  Our destination is Oriental Marina in Oriental, NC.  It won't be a minute too soon to get there since we didn't get to shower last night, ugh!!  (The drain pump is not working…another one of those things that needs to be fixed, after the engines)!  We arrive at 6:15pm., and learn that we really can fit into a 17 ft. wide slip!!  The place looks like a party is going on.  We realize after tying up that it is just the locals congregating around the Tiki Bar!  After showering, (thank goodness for the small things in life), we have a delicious meal at the marina restaurant.  I had the Seafood Nirvana, and it was too!!  Jim had the Mahi Mahi.  The service and food was superb, our best meal yet!  The waitress gave us a doggie bag of their delicious bread and honey butter, (we eat on it for days)!!  We crash hard and get a good night sleep, finally!
Oct. 6, 2001, Saturday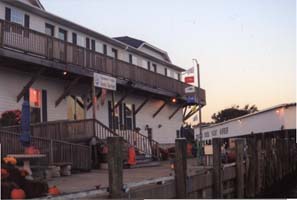 We arise at 7am, but before departing we decide to provision up the boat and buy some items in the marine store.  The problem is everything is closed until 8am.  So we walk around and explore a bit.  In doing so, we run into Skipper Bob who just happened to be docked at Oriental too!  He's piloting his former trawler, "SNUG" down to Charleston with it's new owner in tow.  He makes us laugh and gives us some good advice on maintenance during our short chance meeting.  We get rides to and from the grocery that is 8 blocks up the main drag from two different very nice and friendly locals!  Everybody here is so kind, we love it!!  Definitely a place to return to … finally we are underway at 9am.  Only three hours into our day, we stop at Town Creek Marina, the port engine (the good one) went down we think because of fuel starvation.  Jim changes out fuel filters which are full of gunk!  That darn Charlie (former owner)!  We are underway again but we lost almost 3 hours.  Destination is Spooner's Creek Yacht Harbor.  For the first time they are predicting thunderstorms and we want to be secure before they hit.  It's about 3:30pm and we are at the entrance to Beaufort, NC when we finally see them, the dolphins!!  I'm so excited, I don't even worry about the camera, I just want to experience seeing them around our boat.  They are beautiful and playful and look as if they are having the time of their lives!  Another one of those moments that I will never forget!  Jim says they are the real "Flipper" kind of dolphins, and I ask "is there any other kind"??
We lose more time as the wind and current resistance has slowed us from 7.5 knots to 4.8!  We arrive Spooner's Creek in Morehead City, NC at 5:15pm.  The man and woman at the dock are so helpful and friendly, so sorry I didn't get their names.  After tying up she offered us bicycles to ride to restaurants not far up the road.  She also gave us some menus from some places that deliver right to marina.  Since it was going to storm we decided to have dinner delivered and take a leisure bike ride instead.  It was so fun too!  We saw some beautiful homes right on the ICW.  We peddled down this cute tree lined street and dreamed of retiring to a place like this.  It is truly picturesque!  Once back to the boat, got showers, dinner arrived, and then the bottom fell out, lots and lots of rain!  Not to worry we were safe and snug in our own trawler, (and we didn't even have any leaks)!!    There's the marina cat named Jonesy, that came right in our boat and made herself at home!  We dried her off and she ate a few bread pieces and then settled in for a nap on our rug in the pilothouse.  It was comforting since I was missing my Frece Lou who was not on this trip this time.
Oct. 7, 2001, Sunday
Depart Spooner's Creek at 7:00am after our newspaper and fresh donuts were delivered by the marina (what a nice touch)!  After all that rain, again the sky is a clear blue and we are on our way to another beautiful and hopefully, productive day!  Little did I know … we were plugging along seeing some of the most picturesque scenery yet with these incredible wind swept oak trees framing quaint homes on the sea shore when Jim discovers one of the engines is blowing steam out of a valve.  He decides it is time to dock somewhere and take a look and better yet, I suggest maybe we have an experienced diesel mechanic take a look.  So, around 12:30 or 1pm we stop at a place we now have come to like very much (all because of the people), Swan Point Marina in Sneads Ferry, NC.  From the start, we are treated so kindly.  Some local boat owners help tie us up even though the wind is relentless blowing at 15 knots or so.  There are no mechanics working until tomorrow so Jim begins working down in the engine room.  We determine we will stay the night and try to get a flight out of Myrtle Beach tomorrow to come back home.  Meanwhile, we meet Betty and Lee Lamb, two of the nicest people we've ever come across!  They live on their house boat there at the marina, and Betty works at the marina as well.  She helps us get squared away and even gets us a ride the next day to pick up a rental car that will take us to the Myrtle Beach Airport.  That night we have dinner at The Green Turtle restaurant, which is just great!  Before calling it a day, we stop in at Betty and Lee's for a nightcap.  Lee and I have a brief dance and he declares us fellow "Waterbugs", (his name for people who love boating and cruising).  I feel like we couldn't have had better luck at finding a place to leave the boat and have it worked on.  These people are real, authentic, and genuinely care about others!  We definitely will come back and visit!
Oct. 8, 2001, Monday
Got a ride with Bee (another friendly marina employee) to pick up a rental car in Jacksonville, (NC that is)!  Then it is time to get packed up and get going.  We say our goodbyes and we're off.  We were not able to catch a plane until 6:20am tomorrow so we decide to stay in a hotel in Myrtle Beach and relax.  After a nice steak dinner and the longest and hottest shower in the history of showers, that is just what we do!
Epilogue: Well, the trip was great and not so great!  Great, in that we met some of  the nicest people in the world, saw some incredible sites like the beautiful sunsets, sunrises, the playful dolphins, we ate great (except for the Dinty Moore Beef Stew), Jim and I really bonded and became closer, we leaned on one another emotionally (and physically at times), we learned a lot, and we learned that we really do like this lifestyle!  Not so great, in that we had delays, engine trouble, and didn't make our destination.  We console ourselves with the fact that we will just have to take another cruising trip soon to get the boat in Jacksonville!
Lessons Learned
Lesson 1:  Fuel tanks that have been neglected will stop all further movement of the trawler until proper attention has been given.
Lesson 2:  The hydrodynamics of ICW travel is a science to be learned – at full power, an 8 knot trawler will sometimes only make 4.5 knots due to shallow water.
Lesson 3:  When the exhaust pipe on the starboard side is blowing water due to being submerged, there is a very good chance that the port propeller is hitting bottom!
Lesson 4:  Not all powerboat owners are courteous on the ICW.
Lesson 5:  Batteries can fail leaving you with no power onboard.   Carry a handheld VHF if possible.
Lesson 6:  When transporting an unregistered and un-numbered trawler through the Norfolk Naval basin, you will be stopped by the police.
Lesson 7:  Never go anywhere without the Cap'n Charting software – it is fantastic!
Lesson 8:  Always – Always keep your wife happy, you can't believe how much you will need her every day of the trip!
Part II of the trip home continues below
Here is our second leg of our trip to bring our newly refurbished trawler from the Zimmerman Yard in Virginia down to Jacksonville, Florida. In this segment, we leave Swan Point Marine in North Carolina and head to Charleston, SC.
October 25, 2001, Thursday
Arrived late last night so we could get underway early today, but Jim had to change the oil in both engines and it took about 2 hours.  That was good because I got to visit with Betty awhile.  Actually, she and Bea were hanging out when I joined them at Betty's.  We had a few laughs and then it was time to go.  They helped us and returned the rental car to Jacksonville for us.  Thank goodness for the kindness of these folks!!  Unfortunately, I didn't get to see my fellow waterbug, Lee, but maybe next time!  So, after getting square with the marina, we carried our skinny wallets back to the boat and we were off at 10am!  A rather uneventful first day, which is good of course, at least there were no problems!  When we began to call marinas just past Wrightsville Beach, for a place to dock for the night, everyone was full or could not accommodate a big boat like ours.  We were about to settle for anchoring out when we talked with the Colquina Harbormaster who thought he just might have an empty slip at a condo complex down the way, called Federal Point.  He was trying to tell us how to get to it and told us to call him once we got to a certain day mark.  When we didn't call back for 10 minutes or so, he called back on the radio "How 'boutcha trawler?, Did you get stuck in the mud or what?"  Jim calls back, "Hey, when you own a trawler, you learn how to go slow"!!  Anyway, we finally made it to Federal Point at 7pm.  After a nice shower in a very nice facility, we walked to a wonderful little seafood restaurant in Carolina Beach called Michael's.  Its seafood chowder was voted the best on the east coast!!  And it was too!!  Jim and I laughed about how we were "roughing it" as we drank wine and munched on king crab and tuna steak!  Mark, at the bar gave us great service and kept us happy!  Afterwards, we walked to the Food Lion to provision up for the next few days, when we ran across these homemade fudge cookies that both Jim and I remember from childhood years.  They're the no bake chocolate and oatmeal drop cookies.  Once we grew up my sister called them "heart attacks"!  Anyway, we went back to the boat and somehow found room for a half a cookie each before going to bed.  We decided that if a hurricane took us in the night, we would definitely die happy (and fat)!!
October 26, 2001, Friday
Depart Federal Point, Carolina Beach at 8am.  Another beautiful day, we can't believe our luck, not a cloud in the sky and a nice 60 degrees headed for the 70's.  It's a pleasant cruise with nice scenery.  Lots and lots of expensive homes to gawk at… we ask ourselves as we view one million dollar house after another, "Where does all this money come from"?  We catch a nice wind at our backs and cruise at 9.2 knots, a definite record speed for us!  Things are going well, but Jim is tense.  Maybe he thinks things are going too well!  To give you an example of how tense he gets, I remember last night as we were casually walking to the restaurant, Jim's arm was up in a "sling" position, almost as if he were escorting me down the aisle!  I mentioned it to him and he laughed not even aware of it, but admitting, "yes, I'm tense"!  We are headed toward Myrtle Beach or just south of there.  We arrive at a cute "rural" marina called Hague Marina close to dark.  Two nice college kids, Seth and Devin help us tie up and we take on 80 gallons of fuel.  We borrow their courtesy van and drive up the road to the grocery to get a sandwich and some other supplies.  Jim putters in the engine room and I read.  We are too tired to shower and decide to do that before getting underway in the morning.  Tonight it is supposed to get down in the 30's, burrrrrrrrrrrrrrr!!
October 27, 2001, Saturday
Yep, it is cold, but this place is beautiful!  It is behind a little island off of the ICW and there's beautiful trees surrounding us.  I take pictures as the sun is rising and there's a soft fog on the water.  We grab a hot shower and then we're off … until … Jim starts the starboard engine and all is well, then he goes to start the port engine and NOTHING!!  No sound, no hiccup, no nothing!  After scratching our heads for a minute, Jim diagnoses the problem as electrical, something in the starter.  We are not sure what is in store, whether we will be docked here while we order parts from England or what??!!  I have learned the best thing to do in these situations is to grab my book and keep quiet and let the "genius at work" do what he does best.  After 2 hours (and several obscenities later) I hear both engines start up!!  It's 11am but we are finally underway again!!  I declare Jim, the genius he is and we're off!!  Turns out Jim took the starter apart, cleaned it and put it back together and that's what did the trick!!  This part of the journey is very beautiful but barren.  The coast is full with trees and sea grass and that's about it!  We admire two pelicans flying in unison, very smooth and low over the water.  We decide we will anchor out for the night otherwise we will have to stop in a marina early or go into the night to make the next one.  We arrive at our anchorage, the South Santee River at 6pm.  It's a beautiful clear night and there are 3 other boats anchoring here as well.  We have a glass of wine and admire the view!  The sun has just set in the west.  In the east, we see the moon has risen and we have this wonderful moonglow shining in the water.  Jim tunes the radio to an oldies station and we slow dance to an old song by Chicago, "Colour My World".  For a moment, all is right with us, and the world!!  These are definitely the moments we live for!!
October 28, 2001, Sunday
We depart the Santee anchorage at 6:15am (the time changed so it is actually 7:15 by our body clocks), quite early still.  The sun is just peeking over the horizon.  We needed to get an early start to make it to Charleston and still have time and energy to drive home to Atlanta!!  We see some beautiful old shrimp boats along the way.  They are so classic, I take pictures of them because it could be a scene from 50 years ago!  We arrive (around 1:30pm) at our destination, which is 4 miles south of Charleston at a place called the Buzzard's Roost Marina.  It's nice, the people are pleasant, and we are glad to see there is a restaurant here too, since we are out of provisions now!  We eat a nice lunch and get packed up and catch a taxi to the rental car office in downtown Charleston.  When we arrive there, the attendant informs us there are no rental cars available (even though we had one reserved there)!!  Jim rants and raves while I contemplate how we are going to get a rental car.  Turns out there are cars at the airport so we ask our taxi driver if he can accommodate us.  Forty dollars later we arrive at the airport to pick up our car.  Needless to say Jim is on the phone talking to customer service and getting us a discount before I can say "let's go"!!  Finally, we are on the road at 4:30pm with an eta for Atlanta of 9:30pm.  I plot the four day cruise plan for the next and final trip when we take her from
Charleston to Jacksonville, finally!!!!!
Bonus: Here's a chart of the Jacksonville area.