One of the chores I always disliked was having to start up the GenSet each time the microwave was used.  And now that I have nearly completed installation of the new refrigerator it became necessary to provide a means to generate 110 VAC while underway without using the GenSet.  I was very lucky in that Captain Buddy of the trawler Puffin (a 46′ Kadey-Krogen) had a ProWatt 1750 inverter for sell.
The size of the unit was determined by the expected loads during normal operation.  The only constant load should be the refrigerator which consumes 6 amps at 110 VAC so a simple conversion would give me somewhere near 700 watts.  The only other loads would be salon lighting and the occasional use of the microwave.  I decided to install the unit below the main berth on a shelf (starboard side).  This location was chosen in that in was only 4 feet from the electrical distribution panel in the engine room and was dry and oil free.  The only negative about the location was that the manual bilge pump hoses pass directly over that location.  I also wanted to provide a battery select switch so that either house bank could be selected.
The ProWatt 1750 comes with a dual GFI outlet on the front with LED meters for load and voltage.  I used the internal connection point to tap 110 VAC so that a line could be run to the pilot house.  In the pilot house behind the left access door panel (next to the electrical panel) I mounted a IOTA Engineering transfer switch (model ITS-30R).  The transfer switch was connected in parallel with the shore power feed to the electrical panel so that only one source could be selected and that function was handled automatically.  That is, when shore power is available and selected, shore power is the primary source and feeds the panel.  If the inverter is on and shore power is removed or not available, input power is selected from the inverter almost instantaneously.  Upon return of shore power, a 20-second delay timer runs then shifts the panel back to shore as primary.  The ProWatt 1750 is supplied with a remote control panel that has a push button switch and status LED.  This was mounted directly below existing electrical panels on the door front.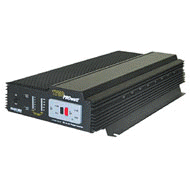 The Prowatt 1750 is designed to handle high power and many marine applications, and is ideal for running virtually any electrical item found in a boat, or several small appliances simultaneously. Typical applications include large televisions, full-size microwaves, coffee makers, toasters, and blow dryers.
Product Features
1750 watts maximum,  3000 watt surge capability
Built-in LED display for DC volts and amps
Supports addition of external AC outlets
Dual GFCI receptacles (single receptacle for Prowatt 3000) for safe operation and hardwire AC connections
Heavy duty terminals for trouble-free battery connection (Prowatt 1750 and 3000)
Includes ON/OFF remote switch
One year warranty
Protection Features
Low voltage shutdown (10.0 VDC)
Low voltage alarm (10.7 VDC)
Over voltage protection (15.0 VDC)
Overload shutdown
Over temperature shutdown