When Appearance is Critical, Think Brazing.
Application: Sunglasses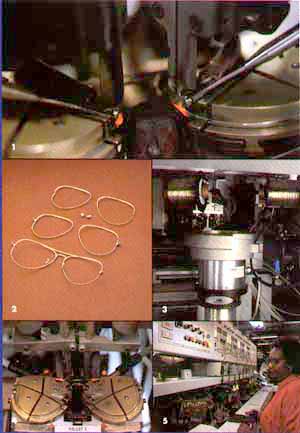 Wire frame sunglasses, manufactured by Bausch 8 Lomb, Co., in Rochester, N.Y. Bausch& Lomb uses the brazing process to produce the ten joints needed for the Ray-8an wire frames available in its sunglasses product line. The component metal parts of frame fronts, which consist of an eyewire, endpieces, a bridge, a brace and a browbar, are constructed of nickel or a nickel alloy. To form the sunglass front, they are joined together by induction brazing in a series of steps. At each step of the process, they are held in place by a jig. The Handy & Harman / Lucas – Milhaupt brazing filler metals typically used for the joints are 50% silver – bearing alloys such as Braze 505. in some instances, Handy Flux or Handy Flux Type 8-1 is used to insure optimal wetting action. When the brazing process is complete, the fronts are pickled to remove any discoloration, polished, and then plated in the desired color. The brazed joints in the finished frames are virtually invisible to the eye.
The bridge of a sunglass frame is brazed.
Various metal frame parts are joined during the induction brazing process.
Handy & Harman/Lucas-Milhaupt filler metal in wire from is used.
Brazing provides invisible joints as this browbar is brazed.
A total of 10 joints are formed during the fully automated process.
Why brazing?
When people buy sunglasses, appearance is key in their selection process. Brazing's ability to produce invisible joints makes it the only logical choice in metal joining options for the Bausch 8 Lomb line. Plus, the strength and durability of brazed joints help insure the sunglass frames hold up to the rigors of regular use.
Brazing Provides Leak-Free Passage For Vehicle Fuel.
Application: Fuel Senders used in vehicles manufactured by Ford Motor Company.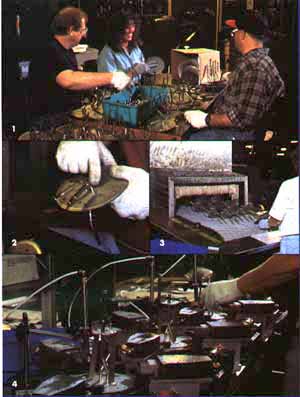 Ford Motor Company relies on brazing in several phases of vehicle manufacture. In the assembly of its fuel pump systems, brazing helps provide a leak free route for gasoline to be transported to the engine. Specifically, brazing is used to construct the fuel sender, a part that mounts directly onto a vehicle's gas tank. With a fuel pump attached to it, the fuel sender pulls gas out of the tank and sends it through tubes to the fuel injection system. In the manufacture of the fuel sender, two stainless steel arched tubes are brazed through a round stainless flange. The tubes fit neatly between the two existing holes in the flange. An operator manually snaps a C-shaped arc of filler metal, (Lucas-Milhaupt's CDA-521), into the gap between each tube and the flange. The parts are then placed on a belt and sent through an oxygen-free, controlled-atmosphere furnace. The absence of oxygen eliminates the need for flux or cleaning, and the brazed parts emerge shiny and clean. Following this rapid metal joining process, each fuel sender is 100% leak tested.
Teams of Ford employees place the stainless tubes in place in the flange.
Filler metal arcs are manually positioned to fill the gap between each tube and the flange hole.
Assembled parts are placed on a conveyor for brazing
Finished fuel senders are leak tested
Why brazing?
At Ford, Quality is Job l. That's why the automaker relies on brazing to construct its fuel senders. The operation itself is simple and cost-efficient, and the brazed parts are leak-free and attractive to the eye.
Automated Soldering of Ice Tray Assemblies is a Cool Process.
Application: Ice trays used in large, industrial ice cube machines manufactured by IMI Cornelius of Mason City, lowa.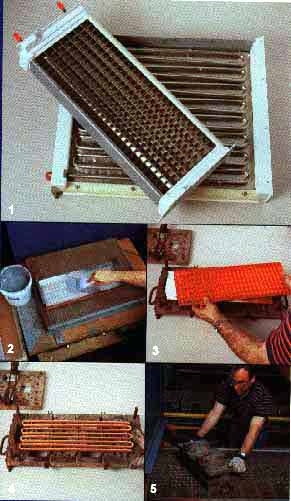 The soldering story: Hotels, motels, restaurants, and other commercial and industrial businesses look to IMI Cornelius to make sure they never run out of ice. IMI Cornelius looks to Lucas-Milhaupt products to ensure the ice cube trays inside their equipment consistently deliver the cold goods. In the tray assembly process, a metal grid used to form the actual cubes is joined to the inside of the tray, and a serpentine coil that delivers coolant to the grid is joined to the tray back. Soldering is the metal joining method used for both steps which are performed simultaneously. To join the metal grids to the tray, IMI uses tin silver solder paste filler metal, a step-saving product that includes flux. A tin silver foil is used to join the coil to the tray back. Lucas-Milhaupt provides the foil in sheets cut to match the width of the trays, and IMI trims to the desired length. An operator-controlled process applies both the paste between the metal grid and the tray, and the foil strips and flux between the tray and the coil. The tray then moves on a conveyor into the furnace for the soldering process.
The completed ice cube tray parts.
A coating of filler metal paste is applied to the tray.
The tray is positioned on the pre-cut and trimmed foil.
The coils prior to soldering.
An operator positions the ice cube tray parts on a conveyor for soldering.
Why soldering?
IMI Cornelius relies on soldering to produce a strong, consistent and cost-effective assembly in its plated ice cube trays. The process used is identical to brazing with the only difference being the use of a lower melt temperature (under 840'F).
Automated Brazing of Aluminum Tubing.
Application: Tubing assemblies for air conditioning components produced by ITT Automotive.
The brazing story.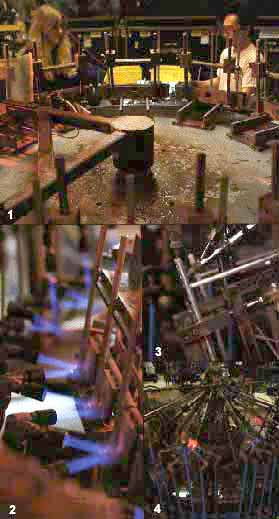 ITT Automotive, a leading supplier to major automakers, manufactures aluminum tubing assemblies for vehicle air conditioning components. The company makes both inlet and outlet tubes for condensers and evaporators and a tube header for air conditioning condensers.
ITT relies on brazing in a variety of different processes throughout its facility; from 2-piece assemblies to the more complex tube headers requiring up to seven brazing operations. Most involve the joining of aluminum components using paste, flux and/or preforms.
All ITT's brazing operations are semi- automated. Aluminum tubing is joined at multi-station index tables. Steps in the process include loading the parts, application of filler metal, heating, cooling and cleaning.
Inlet and outlet tubes are brazed at an automated index table.
Brazing in action.
Aluminum paste or flux is dispensed in pre-measured amounts.
One of several semi-automated systems at ITT
Why brazing?
ITT's automotive customers, looking for a high quality, cost effective part, specify that brazing be used in the production of their tubing assemblies. In this application, brazing is the logical choice as it provides a dependable, strong joint at the most economical cost.
Brazed metal chairs stand up to close inspection.
Application: Metal frame chairs and other furniture manufactured by Kl (Krueger International), of Green Bay, Wl.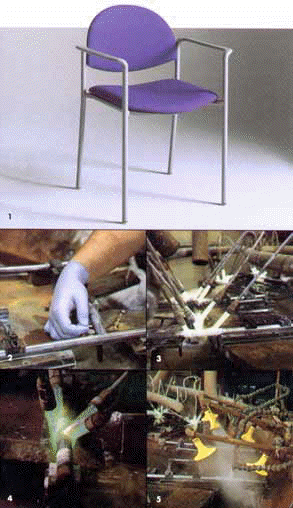 In 1941, Kl introduced its initial product, a steel folding chair, and today markets an extensive line of seating, tables and other furnishings. The company relies on brazing and Handy & Harman filler metals to ensure smooth, strong and invisible joints in the metal frames of its products.
Brazing is used in a variety of products at Kl, and is a critical step in the manufacture of the company's high volume, Versa brand chairs. The metal framed product line ranges from individual chairs with poly, wood or fabric seats to tandem seating units and children's furniture.
Although the number of brazed joints per piece may vary, in most cases the joints are formed where the metal seat base and leg pieces come together. In all cases, like metals are joined, usually steel to steel. The brazing process takes place at an index station where multiple frames are joined simultaneously. An operator manually positions a ring or slug (Braze 505), in position on the frame parts. Flux is applied, and the parts are rapidly heated using gas-air torches. Once brazed, the finished frame is cooled using forced air and then water quenched to clean.
KI on brazing to ensure appearance and strength in its Versa chairs.
A technician positions the filler metal.
Pre-heating of joints.
Final heating station, where joints are completed.
Waterquenching helps to clean the brazed metal frames.
Why brazing?
Brazing is the only choice when appearance and strength are critical. By brazing the metal frames on its Versa chairs, Kl is ensured of not only strength and durability in its joints, but also a consistently smooth, clean and beautiful joint.
Brazing Boosts Appearance and Strength of Pressurized Sprayers.
Application: Pressurized sprayers manufactured by Milwaukee Sprayer Mfg. Co., Inc, in Milwaukee, Wl
The brazing story:
In the manufacture of its pressurized sprayers, Milwaukee Sprayer relies on the brazing process to join brass to brass and form three separate joints. Using a torch to heat, an operator brazes inlet and outlet adapters onto the top of the brass sprayer shell. Two distinct joints are made. The third joint is formed when the bottom portion of the sprayer is joined to the shell. This process is semi-automatic and occurs as the part is rotated in an automated flame brazer.
To produce the strong brazed joints, Milwaukee Sprayer uses Lucas Milhaupt's Braze 380 and 505 special-purpose alloys, all in ring form. Prior to brazing, the parts are coated with Handy-Flux to prevent oxide formation during heating. Once the joints are formed, the parts are air cooled, quenched in hot water and cleaned. In total, the entire brazing process is completed in about 45 seconds. The finished pressurized sprayer is strong and leak-tight.
Brazing produces virtually invisible joints for optimum appearance.
Three joints are brazed in the can assembly.
An application of flux prevents oxide formation during heating.
Using an automated flame brazer, the can bottom is joined to the shell.
The finished parts are quenched in hot water and cleaned.
Why brazing?
Brazing is the optimum choice to produce an attractive pressurized spray can. With all brass to brass connections visible to the eye, brazing's invisible joints help ensure the very best product appearance. Along with this aesthetic benefit, the process guarantees joints that are strong and durable.
Flexibility of Brazing Ideal for Copper Coil Automation.
Application: Copper coils for central air conditioners manufactured by The Trane Company, a division of American Standard in Trenton, N.J.
The Brazing story:
The Trane Company relies on a combination of manual and automated brazing processes in the manufacture of its air conditioning units.
In Trane's production of evaporator coils for air conditioning units, an automated brazing system supplied by Lucas-Milhaupt is used. Called the "COBRA" (COil BRAzer), this sophisticated in-line system joins copper return bends to copper tubes at a highly advanced and rapid rate. As designed, the COBRA system has the capacity to braze various sized one to three row coils at rates as high as 40,000 joints per hour.
The COBRA, supplied by Luca-Milhaupt, is a sophisticated in-line system that brazes at a highly advanced and rapid rate.
Cross firing spear flame burners braze the return bends in place.
Finished evaporator and condenser coils are tested prior to assembly in air conditioning unit.
The COBRA system, which is manually loaded, conveys the coils between cross firing spear flame burners that supply the heat to braze the return bends in place. A phos copper alloy in ring form is used. When used on copper, this alloy is self-fluxing. They are then cooled to room temperature before being off-loaded to another conveyor for final testing and assembly into air conditioning units.
Why brazing?
In the coil brazing process, an abundance of joints are formed on a continuous basis. In a year, the Trane Company brazes about 30 million joints. Brazing, which is highly flexible and a process ideally suited for advanced levels of automation, is a logical choice for this application.
Go back to the Brazing Book.