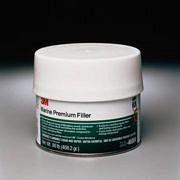 My experience with wooden boat repair has been none to minimal.  So I expected a long learning curve when it came to repairing wood rot.  I've found one product that is working great for minor above water repairs.  Its the 3M Marine Premium Filler which is a  uniquely formulated two component vinyl ester filler designed for marine filling and fairing applications above and below the waterline.  Premium Filler resists water absorption into hulls, decks and other fiberglass parts. 3M Marine Premium Filler is a unique and easy to sand formula designed with 3M glass bubbles. It is sand able in 30 minutes.  OK, that's the ad hype, now how I like it.
The material out of the can is a beige or cream color with the consistency of peanut butter.  A cream hardener in a tube is provided which is dark blue.  The mixing instructions call for a 1 1/2 inch line of hardener for a golf-ball size of filler.  When mixed the color is a very nice aquamarine.  It lays up easily on both vertical and horizontal surfaces.  The only real problem is that it sets us very fast.  It truly is sand able in 30 minutes.  I have used it for repairing marine plywood and on the main beam supporting the solon roof over the aft deck.  I've found that initial sanding with 40 grit paper then a second with 80 or 100 grit works best.  Primer adheres to it very well.  Clean up is easy when I use a plastic mixing trowel and flat plate.  Let the filler cure and simply flex the plastic pieces and the filler flakes off.  Cleanup of non-cured filler can be accomplished with paint thinner.
The alternative is the West System epoxy where I would need to add glass beads or filler.  I chose the 3M product since it was pre-mixed.