MV Tortuga Maintenance Information
I've been told – that once the work is caught up, that the maintenance of a wooden boat is nearly the same as for fiberglass.  The diary of work on the hull and upper decks which we chronicle below will either prove or disprove that myth.  Right now I'm living proof that that statement may not be all that true.  But I'm having fun and looking forward to every weekend on the boat.  I truly can't wait to get into woodwork and experiment with epoxies and paint.
Read more information about head (bathroom) restoration aboard MV Tortuga.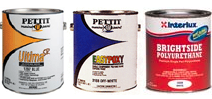 Paint
A general note for painters – we used Pettit Easypoxy topside paint #3348 Jade Green for the hull and bulwarks.  We are using Interlux Brightside white for the deckhouse and Pettit Ultima SR for  the bottom.
October, 2004
I have started on the new headliner in the salon and replaced the refrigerator.  The refrigerator is a Whirlpool Model: ET0WSRXMQ with Satina TM doors. It consumes 6 amps and cost $377 from Lowes (suggested retail $459).
June, 2003
Our first true leak in the hull occurred last month.  We have hulled Tortuga out at the Huckins yard on the 9th.  A quick survey of the leak site shows a plank that is so loose that it moves when pressed.  Fortunately, it's repairable with minimal expense.  Received a call today indicating that there is some worm damage and will patch those locations and re-touch up with fresh bottom paint.  There are 7 through hulls on Tortuga.  Two where checked/replaced last year at hull out, I'm having the remaining 5 removed, cleaned, new base plates fabricated and the hull openings treated this time.
January, 2003
A test fit of the portlight  in the master berth head went excellent as far as the hull cut out shape goes.  However – the latches on the portlight when dropped down to allow opening, can't drop far enough down to allow the interior hatch portion to pivot open.  Two choices, figure out a way to simply unscrew the black plastic handles completely each time you want to open it, or cut the teak wood frame below the window to give additional clearance.  I sure didn't figure on this one!!
November, 2002
Started replacement of the portlights.  There are 5 on the port side and 4 on the starboard side.  The primary lights are 14×7″ and the two most forward on each side are 5×12″.  I've ordered one of each from Pompanette.  I'll order the remainder if they're OK.
Pompanette Portlight Features:
316 stainless steel machined rolled frames.
Cast 316 stainless steel hinges with set screw to adjust gasket pressure.
Weather resistant themo-plastic PVC gasket.
High strength tempered glass.
Standard fiberglass screens with rubber gaskets to ensure a tight fit on the inside of the opening port.
Glass dimension: 6 1/2″ x 13 1/2″ (165 x 343)
Cut out size: 7 1/4″ x 14 1/4″ (184 x 362)
Over all size: 9 3/8″ x 16 3//84″ (238 x 416)
Glass Thickness: 3/16″ (5mm)
Spigot length: 2″
September, 2002
I have found that I'm not the best hand brush painter.  So this month we purchased a Campbell Hausfeld HPLV paint sprayer from Home Depot.  It won't provide an automotive finish but it sure looks good on the wood surfaces I've completed so far.  And clean up is a snap. Update – October 2004: I have thrown this thing away!  I was unable to get a consistent spray pattern and many times there where lumps.  It seemed to appear after a number of uses.  So it could be a result of not geting it cleaned well after use or wear on the needle.  In either case – the effort to use it overcame the effort to paint by hand.
April 13 – May 27, 2002
The port damaged area has now been completely cleaned out.  Rotted wood removed and epoxy injected into drilled holes has firmed up rot I can't get to.  Will start laying in glass-filled epoxy to give foundation for plywood layers.  Will finish off with a final coat of epoxy prior to priming.
March 23, 2002
The painting tasks continues as I work forward up the port side.  See the related story about the Port Bridge Wing repair.
March 9, 2002
The bottom painting at Huckins is complete.  We brought Tortuga back to Ortega on Saturday morning.  Started the sanding and preparation of the bulwark and transom interior sides.  I'm using the BrightSide gray primer from Interlux.  Completed one coat by Sunday afternoon.  Started sanding the bottom of the roof deck over the stern sitting area.  There's lots more work here since the paint was several layers thick and needs significant feathering to give the desired smooth look.  I plan on applying two coats of primer and two or three coats of top coat.  I'll be using the Interlux bright white.
February 19, 2002
Visited the Huckins Yacht Corporation just down river from Ortega yesterday to make arrangements for having Tortuga hauled, the bottom painted and the depth sounder and water temperature transducers replaced.  We are planning for this event the week of March 4th.
Zimmerman Boat Yard
The following pictures show the work performed at Zimmerman Boat Yard in Virginia and the condition prior to entering the yards.
Repair Work as of September 25, 2001
We anxiously await getting the boat in one week.
Repair Work as of August 13, 2001
We have found a rotten but block and another bad plank.  $$$$$$$$$  On his knees is Mitch, our favorite carpenter at Zimmerman.
Repair Work as of August 6, 2001
The end of last week brought some minor bad news.  Even though I anticipated it, Zimmerman has found water damage to the plywood sub-floor under the bulwark and extending at least four strips of teak planking inboard.  It was also determined that the rub rail was fastened internally rather than through the frame externally, making it impossible to remove without lifting the deck first.  We are awaiting another estimate so that a complete fix can be accomplished.
The estimates are in with an anticipated 40 hours of additional work.