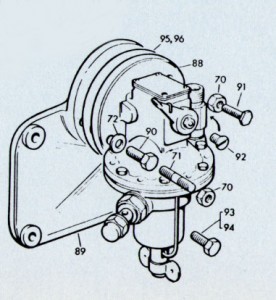 August 30, 2000 update
Installation presented some problems last weekend.  The cam arm was the wrong one so I had to salvage parts from the old fuel pump.  But once installed she worked perfectly.  A minor leak in the hose couplings will get fixed on the next trip to Zimmerman.
August 16, 2000 update
The pump arrived today.  Almost three weeks after we started the process.  I'll need to remember that one when ordering from England.  The part appears to be the exact one.
Original Story
Part number A04055.  That's what the Gardner spares book calls it.  And when calling Walsh Engineering in Manchester, England they understood exactly what I needed.  But that didn't do me any good on Saturday evening (July 21,2001) as we neared Solomons, Maryland.
The books say the captain should perform a walk around inspection while underway every two hours.  I am so glad I read that instruction.  A few hours after leaving Kent Narrows with absolutely no sign of problems, I opened the engine room hatch and gazed at those two huge Gardner engines purring away.  To my shock fuel was spraying into the bilge and onto the floor from the starboard engine.  We immediately shut her down and a close inspection revealed fuel spurting from two locations from the lift pump.  My first impression was a failed gasket.
Solomons is a great place to stay,  Stephanie and I where there last year for TrawlerFest 2000.  But on Saturday night nothing was open that had or even understood what gasket material was (not even the West Marine store).  Finding the closest thing we had I cut a new gasket.  It fit like it was factory made.  To my horror, I actually think it leaked more after installation.  Now we had a real problem.  Dismantling the entire pump revealed hairline cracks on the upper flange.  The parts are on order so stay tuned to see what difficulties we experience with our first overseas parts order.