Tortuga, Spanish for Turtle seems like such a perfect name for our new trawler.  They have similar characteristics, most are green, they're slow and methodical, they're very stable (rarely roll over!) and they love a temperate climate.  We have struggled for a new name since last Fall.  A little history of Turtuga's pre-names – she was commissioned "Black Geordie."  This was the name of a horse in the English novel "Robert Falconer" written in the late 1800's by George MacDonald.    The story was of a young orphan who was seeking his father and God.  He journeyed throughout England on his horse Black Geordie.  There is also the potential that it is a miners slang in Britain (perhaps Canada) meaning a coal miner from the Tyneside district.  This name was carried through by the first two owners.  When Charlie Scott purchased her 12 years ago he renamed her "Smiles."  Sorry Charlie, I just don't get that one!  But I do hope she brought lots of smiles to Charlie and Patty.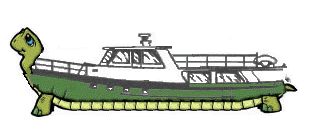 We have looked at Spanish names since she will be traveling much in Spanish speaking areas, Chinese names since she was built in Hong Kong, and French names since they simply sound sexy.  Tortuga won for several reasons.  First, the bridge tenders can pronounce it on the ICW.  Second, it will fit very nicely on the transom when we finish painting her.
There is an elaborate formal process to go through for renaming a boat.  And being an "Old Salt" I want to keep Neptune pleased so I will follow this process to the letter.  I've included it her for your review.  The Boat Renaming Ceremony.
For those interested in the US Navy's Tortuga (USS Tortuga): These ships transport and launch amphibious craft and vehicles with their crews and embarked personnel in amphibious assault operations.  LSD 41 was designed specifically to operate LCAC vessels. It has the largest capacity for these landing craft (four) of any U.S. Navy amphibious platform. It will also provide docking and repair services for LCACs and for conventional landing craft.  In 1987, the Navy requested $324.2 million to fund one LSD 41 (Cargo Variant). The ship differs from the original LSD 41 by reducing its number of LCACs to two in favor of additional cargo capacity.