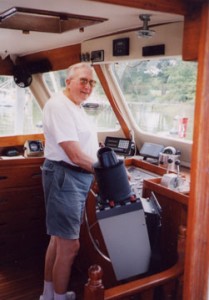 What compares to the first voyage on your trawler?  Your first house, your marriage, your first child?  Perhaps none of these, but the excitement, the energy required for the planning and the nervousness about what to expect builds until the day you leave – then it seems to settle into just pure fun.
The biggest problem Stephanie and I face is time.  Maintaining our busy work schedules keeps us from just heading out for long voyages.  Academic schedules are the toughest and this made it impossible for Stephanie to join me on this first adventure.  So out went the invitations to family and friends.  Fortunately my step dad Jack Ervin had the time.  The adventure started on July 18th when I arrived in Kent Narrows, Maryland with a rental car full of tools and supplies.  Jack's flight from Florida arrived Friday evening so after a tasty meal at the Fisherman's Inn we hit the bunks for the next days new beginnings.  The morning was filled with returning rental cars and securing our gear.  Then the moment of great fear, I now have to move this 49′ trawler up river to the fueling docks. Were my years of experience in smaller twin engine boats going to give me the skills to keep this lady under control.  Soon I realized she behaved so elegantly.  A simple nudge here and there and she was coaxed up the channel and along the wharf as though she and I had been partners for ever.  Not wanting to spend thousands of dollars we took on only 150 gallons of fuel and headed south to Solomons, Maryland.
The weather could not have been better.  The unlimited visibility and electronic charting system removed all concern of our location.  Jack was a great 1st Mate and handled the helm like a pro.  With both engines purring we managed a respectable 10 kts at 1400 RPM.  That was until three hours into our adventure when the starboard fuel lift failed.  A quick inspection determined a complete shutdown of the engine was required so our first leg was completed on a single engine.  We had called ahead to Harbor Island Marina and sure enough Lenny was waiting with a spot just large enough for us.  It did require restarting the engine just long enough to get though the narrow slips and docks.
Our overnight stay at Harbor Island turned out to be poorly planned.  I would recommend against docking here on a Friday or Saturday night since the bar and it's loud music permeate the air for hundreds of yards around.  Then when the bar closed at 1:00 AM the boaters returned to the docks and continued their loud conversations until after 3:00AM.
So Jack and I decided for a 0630 departure with a single engine run down to Mobjack Bay.  We estimated 10 hours enroute with an estimated speed of 7.5 kts.  The second leg could not have been better.  A few hours into the run and bottle-nosed dolphins danced along our bow, to me a clear sign that we had made the right decision to move on.  Soon we rounded South Point and headed north west into Mobjack Bay.  Zimmerman Marine was less than a mile up channel and we anchored for the evening outside the inlet.  That's evenings dinner was such a pleasant surprise.  We soon turned in eagerly awaiting our next adventure.