Updated November 3, 2004
The new battery box installation aboard our trawler, Tortuga, is complete.  The original battery box for the two 8D starting batteries posed serious problems.  First, the box was deteriorating from plywood failure, there where holes in the bottom used to screw the box down to the beams and never filled – so leaking acid would make its way to the bilge, and the box could not be removed easily to access wiring runs below it. As you can see from the photo at the bottom of this post the new polymer box fit perfectly in the space. Now I simply need to finish painting the engine room to make the place look better!
USCG Code of Federal Regulations 33 Sub-chapter 183.420 Batteries:
Each installed battery must not move more than one inch in any direction when a pulling force of 90 pounds or twice the battery weight, whichever is less, is applied through the center of gravity of the battery as follows:
(1) Vertically for a duration of one minute.
(2) Horizontally and parallel to the boat's center line for a duration of one minute fore and one minute aft
(3) Horizontally and perpendicular to the boat's center line for a duration of one minute to starboard and one minute to port.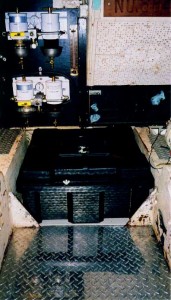 Each battery must be installed so that metallic objects cannot come in contact with the ungrounded battery terminals. Each metallic fuel line and fuel system component within 12 inches and above the horizontal plane of the battery top surface as installed must be shielded with dielectric material. Each battery must not be directly above or below a fuel tank, fuel filter, or fitting in a fuel line. A vent system or other means must be provided to permit the discharge from the boat of hydrogen gas released by the battery. Each battery terminal connector must not depend on spring tension for its mechanical connection to the terminal.
To go a step further and a little better, here are some applicable excerpts from The American Boat and Yacht Council (ABYC) Standards and recommended practices for small craft.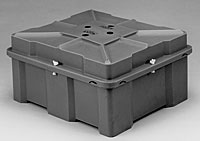 E-10 Storage batteries: If the mounting surfaces of components of the boat in the immediate vicinity of the battery are of a material attacked by the electrolyte, a mounting means shall lie provided that is made of material that is not damaged by electrolyte. Provision shall be made to contain leakage and spillage of electrolyte. Fasteners for the attachment of battery boxes or trays shall be isolated from areas intended to collect spilled electrolyte. Batteries shall not be installed directly below battery chargers or invertors. Cover the ungrounded battery terminal with a boot or non-conductive shield, or installing the battery in a covered battery box. Battery boxes, whose cover forms a pocket over the battery, and shall be vented at the uppermost portion of the cover.